Ozeki VoIP SDK - Product Guide
Configuration steps for creating text/audio/video chat program using Ozeki MediaGateway SIP SDK
This guide provides you brief configuration steps to start to build a text/audio/video chat program using Ozeki VoIP SIP SDK. After configuration, please also check the source code explanation page.
Introduction
Ozeki Silverlight VideoChat sample program demonstrates how to build a text/audio/video chat program using Ozeki VoIP SIP SDK among more Silverlight client applications. The SL clients connect to a server that records the logged in users, and forwards media data arriving from the clients to the appropriate client. After logging into the VideoChat server, the Silverlight client can optionally make and receive audio and video calls, or text messages from the logged in clients.
Creating the project
Create a new Solution with a Silverlight 4 application in File->New Project menu and also create a web application that will host the Silverlight application.


Create another Solution that will provide the server implementation for the Silverlight client application in a Console Application form.
Note: Sometimes VS2010 create projects that are set with .Net Framewrok 3.5 with ".NET 3.5 Client Profile" by default. If this is the case, the project needs to be set to .NET 3.5 in order to boost the full toolkit.


As the next step, the server-side and client-side references of the Ozeki VoIP SIP SDK need to be added to the appropriate project. ozeki.dll is added to the server side, SLClientSDK.dll is added to the Silverlight 4 application. (Please note that this latter reference shouldn't be added to the web application because the Silverlight application will not find the referred references.)
Which Ozeki SDK license you need
The licensing of Ozeki VoIP SIP SDK is based on the numbers of simultaneous calls you can make with it. In this way, you can choose from various licenses according to your needs. If you need only a few simultaneous calls, you can select a lower capacity SDK license. While if you need large numbers of calls at the same time, you can choose a high capacity SDK license.

For further information about pricing and licensing of Ozeki VoIP SIP SDK please check the following webpage: Pricing and licensing information.
When you purchase a license you can easily activate your demo application by entering the serial number you received from Ozeki after purchase. You can enter the serial number by opening the Ozeki VoIP SDK License Manager. In Registration tab you can provide the serial number and click on Activate.

When you decide to purchase Ozeki VoIP SIP SDK license you can select and order the suitable license at Ozeki VoIP SIP SDK licenses page right now.
How to activate your Ozeki SIP SDK license?
After you purchased an Ozeki VoIP SIP SDK license you need to activate it with the serial number. Without activation, you can only use the SDK in trial mode. You will receive your serial number from Ozeki right after purchase. The following steps demonstrate how you can activate the trial version with your serial number:

First, you need to download the trial version of Ozeki VoIP SIP SDK. For activating the trial version open the Ozeki VoIP SIP SDK License Manager (Figure 1).


Figure 1 - License Manager
As the next step, enter your serial number you have received from Ozeki at Serial number edit box (Figure 2).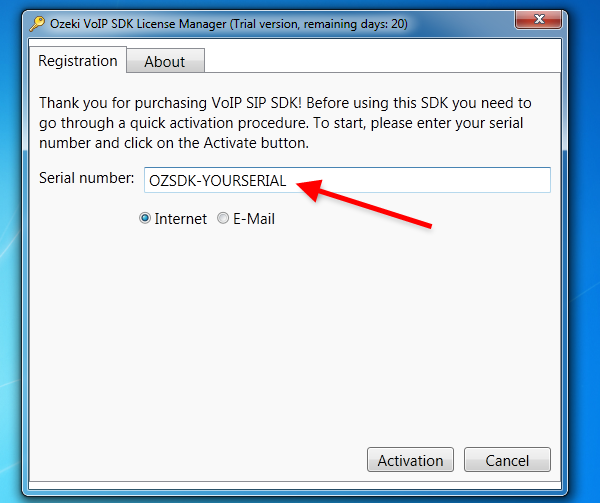 Figure 2 - Enter your serial number
Finally, you just need to click on Activation button to make your license activated. If you enter a valid serial number and the activation is successful you will receive a notification about this fact (Figure 3).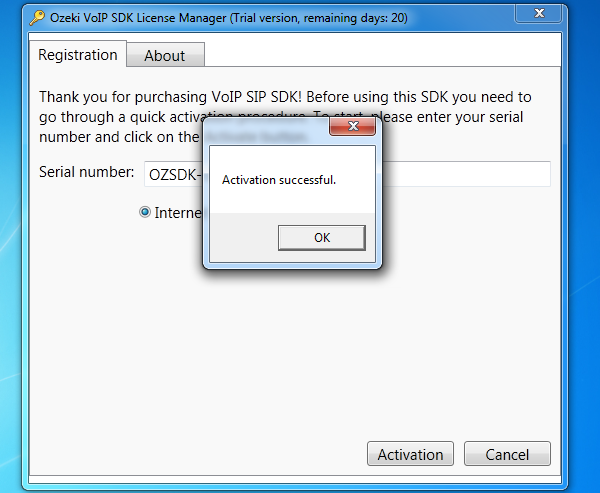 Figure 3 - Activation successful
For more information please do not hesitate to contact us at: info@voip-sip-sdk.com!
As the next step check the source code to get an overall view!