Ozeki VoIP SDK - Product Guide
Facebook to Facebook calls using Flash webphone
This guide presents a magnificent solution of Ozeki VoIP SIP SDK for making Facebook to Facebook calls with Flash webphones. Practically, it means that you can develop a Flash webphone with Ozeki SIP SDK and you can integrate it to your Facebook profile in order to call other Facebook users. Learn more about the options...
Prerequisites:
| | |
| --- | --- |
| Operating system: | Windows 10 Windows 8, Windows 7, Vista, 200x, XP |
| System memory: | 512 MB+ |
| Free disk space: | 100 MB+ |
| Development environment: | Visual Studio 2012, Visual Studio 2010, Visual Studio 2008, Visual Studio 2005, Adobe Flash Builder 4.5 |
| Programming language: | C#.NET, Adobe Flash |
| Supported .NET framework: | .NET Framework 4.5, .NET Framework 4.0, .NET Framework 3.5 SP1 |
| Software development kit: | OZEKI VoIP SIP SDK(Download) |
| VoIP connection: | 1 SIP account |
Introduction
Facebook is a popular social network that has the most users in its category. It uses its own page definition methods that allow users to use third-party application in their profile pages. This model allows you to use your Ozeki VoIP SIP SDK supported Flash webphone embedded into your page in order to call other Facebook users with it (Figure 1).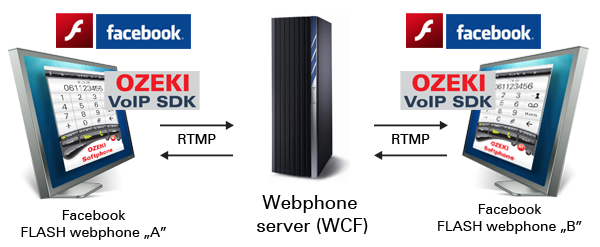 Figure 1 - Facebook to Facebook calls with Flash webphones
For achieving this solution, you can download and install Ozeki VoIP SIP SDK on your computer to speed up your work. You will also need to have Visual Studio 2010 or compatible IDE and .NET Framework installed on your system, as the server program code below is written in C# language. You also need to have Adobe Flash Builder in order to implement the client-side application as it is in Flash language.
The aim of this article is to show you how you can create a Facebook application from a Flash video phone solution that can call another Flash video phone. This goal will be achieved by having a C# server running at a public address. For the client side the webphone will be set as a Canvas application.
To get more information on how to create a Canvas application from your webphone, you can find a detailed guide at Facebook to SIP calls page.
You can also define a web application on Facebook, in that case you can use the knowledge of building a web page with your webphone solution you can find on the Adding a Flash softphone to a web application page.
If you want to make sure your webphone will work properly, you need to set the right address information of the webphone server and have to make sure that the server runs when you use the webphone.
With this method you can also place a web conference or even a more difficult webphone solution in a Facebook application. You only need to make sure that the server is running at a public IP and the clients can reach it.
If you have any questions or need assistance, please contact us at info@voip-sip-sdk.com
You can select an Ozeki VoIP SIP SDK license for building a Flash webphone on Pricing and licensing information page
Related Pages