Ozeki VoIP SDK - Product Guide
How to connect two PBX systems to work as one
Ozeki VoIP SIP SDK saves you a great deal of effort by providing professional background for PBX development. This article presents how you connect two SIP PBX systems in order to make them work as one PBX using Ozeki SIP SDK.
Introduction
Please be informed that PBX development support is available in Ozeki VoIP SIP SDK from version 10.0. You can download the latest Ozeki SIP SDK version from the download page.
PBX systems are basically for establishing phone lines for VoIP clients. These systems need to provide great reliability and stability. The expected reliability of a PBX system is five 9s that means that the system has to be reachable in 99,999% of time excluding planned shutdowns.
You can provide this great reliability by using more PBX systems at the same time. This does not necessarily means that your system will look like using more PBXs as you can config them to look like a single one with the help of Ozeki VoIP SIP SDK (Figure 1).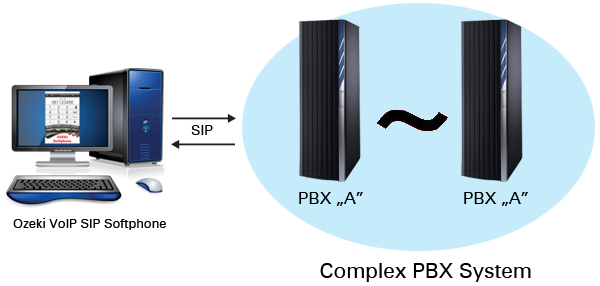 Figure 1 - Connecting two PBX systems to work as one
You can also need to connect two PBX systems together when you have more office departments where you want to use separate PBXs. In this case the office PBXs are connected to each other and the inter-office calls are made by having only one line established between the PBX systems. This allows the usage of only one port for internal calls.
Creating redundancy in a VoIP network increases the reliability and the performance of the system. The PBX system reliability should be five nines (99.999%) that means that the network downtime cannot exceed 5 minutes in a year except for the planned system shutdown. When you use more PBX systems as one, if one of them goes down for any reason, the other can take over and handle the calls so the users do not notice the problem at all.
Using more PBX systems in a network can also handle the case when the company has more than one offices in different locations and they want to use a connected VoIP communication network. In this case the PBX systems handle the subnetworks and they are connected to each other in order to assure the communication between the far away employees like they were in the same office.
The following program code uses the professional background support of Ozeki VoIP SIP SDK, therefore you will need to download and install Ozeki SIP SDK on your computer before starting to use the program code. You will also need to have Visual Studio 2010 or compatible IDE and .NET Framework installed on your system, as the program code below is written in C# language.
If you have any questions or need assistance, please contact us at info@voip-sip-sdk.com
You can select a suitable Ozeki VoIP SIP SDK license for PBX system integration on Pricing and licensing information page
Related Pages