---
VoIP-PSTN connection
This article is a brief introduction about making connection between VoIP systems and the public switched telephone network in relation with Ozeki VoIP SIP SDK. After reading through this page you will be fully familiar with all the essential terms concerning PSTN-VoIP connection and what you will need for creating your own solution using Ozeki VoIP SIP SDK.
VoIP is a versatile technology. It is not required from all of your communication partners to also use VoIP technology. But you, by using VoIP can communicate with them anyways. Even if they still use PSTN landline network. How is it possible?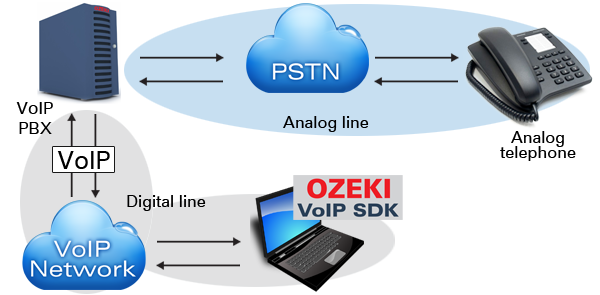 The key of communication between mixed-type devices is address translation. Your computer or VoIP device connected to the Internet has an IP address assigned to it. When you call a person on a PSTN landline phone, your call is handed over to the PSTN network through the person's phone number, which you dial. And vice versa.
In VoIP, every phone number has an IP address to which it maps. Each time a device (PC, IP phone, ATA etc.) engages in a VoIP call, its IP address is translated into the phone number, which is then handed over to the PSTN network. This is analogous to the way web addresses (domain names) and email addresses are mapped to IP addresses.
You only need to find a proper gateway which will easily do the translation. Ozeki VoIP SIP SDK offers you the perfect solution. You can build any kind of VoIP application with Ozeki VoIP SIP SDK - it will able to communicate with the PSTN system, too (Figure 1).
This article introduced you the basic knowledge about the connection between a VoIP system and the public social telephone network and showed how Ozeki VoIP SIP SDK can help you to fulfill your goals. If you have read through this page carefully, you already have all the knowledge you need to start on your own solution.
As you are now familiar with all the terms concerning this topic, now it is time to take a step further and explore what other extraordinary solution Ozeki VoIP SIP SDK can provide to you.
If you have any questions or need assistance, please contact us at info@voip-sip-sdk.com
You can select a suitable Ozeki VoIP SIP SDK license for your project on Pricing and licensing information page
Related Pages
---
---