---
VoIP in mobile networks
(IMS, VoIP enabled handsets, Skype on Mobile handsets)
This article is a brief introduction about VoIP technology used in mobile network environment in relation with Ozeki VoIP SIP SDK. After reading through this page you will be fully familiar with all the essential terms concerning VoIP on mobile systems and what you will need for creating your own solution using Ozeki VoIP SIP SDK.
Mobile VoIP or simply mVoIP is an extension of mobility to a Voice over IP network. You can reach your partners or customers on their private mobile phones or cordless office phones. This possibility adds plus one to VoIP's capability list. What a versatile technology! (Figure 1)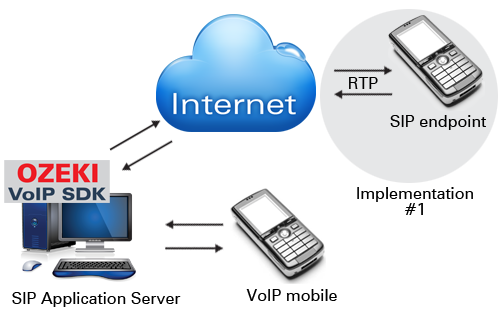 However, not only the recipient can be a mobile phone. VoIP-enabled cordless phones are great alternatives to VoIP Adaptors, and a particularly good option if your existing handset is in need of replacement. For ultimate flexibility and freedom, these models let you make VoIP calls from anywhere in your house or office. There are several methodologies by which a mobile handset can be integrated into a VoIP network.
One implementation turns the mobile device into a standard SIP client, which then uses a data network to send and receive SIP messaging, and to send and receive RTP for the voice path. This methodology of turning a mobile handset into a standard SIP client requires that the mobile handset support, at minimum, high speed IP communications.
Another implementation of mobile integration uses a softswitch like gateway to bridge SIP and RTP into the mobile network's SS7 infrastructure. In this implementation, the mobile handset continues to operate as it always has (as a GSM or CDMA based device), but now it can be controlled by a SIP application server which can now provide advanced SIP based services to it.
This article introduced you the basic knowledge about VoIP technology in mobile network environment and showed how Ozeki VoIP SIP SDK can help you to fulfill your goals. If you have read through this page carefully, you already have all the knowledge you need to start on your own solution.
As you are now familiar with all the terms concerning this topic, now it is time to take a step further and explore what other extraordinary solution Ozeki VoIP SIP SDK can provide to you.
If you have any questions or need assistance, please contact us at info@voip-sip-sdk.com
You can select a suitable Ozeki VoIP SIP SDK license for your project on Pricing and licensing information page
Related Pages
---
---