---
Company PBX
Company PBX is a Private Branch Exchange that serves the communication needs of a given business or office. It can also be called as PABX - Private Automatic Branch Exchange. It differs from key systems in line selection since in case of key systems user manually select outgoing lines, but with PBX outgoing lines are selected automatically. However, hybrid systems that are able to combine both features already exist.
PBX functions as a switch station for telephone systems. It has several branches of telephone systems and it switches connections to and from them in this way linking telephone lines. In other words, PBX connects internal phones of an organization together and also connects these phones to the PSTN (Public Switched Telephone Network) over trunk lines (Figure 1).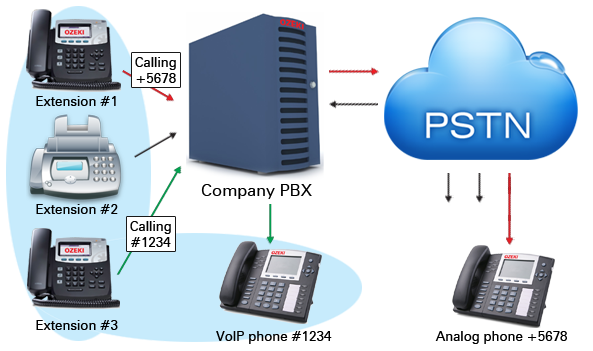 In this way all internal line are connected to an external line meaning that only one line is leased but many people can use this one line for making calls. Each of the users has a telephone at the desk and they have different phone numbers. These phone numbers depend on the internal numbering (they are not the same as regular phone numbers) since within the PBX users can reach each other in the network by dialing a three- or four-digit number.
These branches include telephones, fax machines, modems, etc that is why the end points of them are referred to as "extension". People calling from outside the network can ask for an extension in order to be directed to the target person.
What are the roles of a PBX?
PBX are to:
create connection by switching between users
ensure that the connection will be properly maintained while it keeps its resources
end the connection properly if one party hangs up
record all the parameters regarding to calls like quantities, statistics, etc.
provide information for accounting purposes
Beside these basic functions, several other features can be available by using PBXs. These additional features depend on the product you selected.
The most common functions:
Ensuring one number through which external calls can reach corporate users within PBX
Distributing calls to corporate users effectively
Automating call answering while it provides a menu of options that will allow users to select the respective extension or department
Customized business greetings
System call management
Call transfer between internal extensions
Auto attendant
Auto dialing
Automatic ring back
Call accounting
Call Blocking
Call forwarding on busy or absence
Call park
Call pick-up
Call transfer
Call waiting

Camp-on
Conference call
Custom greetings
Customized Abbreviated dialing (Speed Dialing)
Busy Override
Direct Inward Dialing
Do not disturb (DND)
Follow-me, find-me
Interactive voice response
Music on hold
Night service
Shared message boxes (where a department can have a shared voicemail box)
Voice mail
Voice message broadcasting
Voice paging (PA system)
Welcome Message, etc.
What you need to know about an IP-PBX
IP-PBX has been developed to meet the increasing requirements of companies. Since data networks were widespread and packet switching became well-known, companies needed packet switched networks for data and therefore using them for making calls over the Internet has become more attractive than ever. Today most modern PBX systems support VoIP (Voice over IP).
Until now PBX systems has been considered as luxury only affordable for larger companies. But with IP PBX even medium-sized and small companies can introduce PBX functions into their businesses by adopting VoIP. However, they need to spend some money on hardware and software but ROI (Return on Investment) will be considerably high especially in the long term both operationally and financially.
The major benefits of an IP-PBX system are scalability, manageability and further enhanced features. IP-PBX allows cost effective and easy addition or removal of users to and from the phone system. IP phones ensure the connection among users. It is not necessary for users to connect to only one IP phone meaning that users can easily log into the system via any phone of the network while keeping their personal configurations. IP PBX are relatively software based systems in this way maintenance and upgrade costs are reduced to a great extent and they are also easier to work with.
Main features of an IP-PBX
(Again depend on the service you use)
Unlimited Extensions
Unlimited Auto Attendants
Unlimited Voicemail Boxes
Cell Phone Integration
Integrated/Overhead Paging (PA System)
Remote Phones
Advanced User Interface (including Find me/Follow Me, Unified Messaging, Call recordings, Voicemail .wav).
Extension Groups
Caller ID Customization
DID Direct Inward Dialing
Extension Call Recording
Call Return
Voicemail Callback
Voicemail to Email
SMS Voicemail notification
Voicemail Web Access
Voicemail Bypass
Intuitive VoIP Ready
Voicemail Blast Groups

VoIP Ready
Inbound Call Description
VoIP Compression
Outlook Integration
Announcement Interface
Call-out
Call Pickup
System Diagnostics
Multivendor Phone Options
Analog Phone Support
BYO Phones
Call Parking
Call Barge
Dial by Name Directory
Powerful Reporting
CRM Integration
Remote Linked Servers
Operator Console
Custom Routing Rules
Conference Rooms
Outbound Dial Map
Speed Dial Numbers
Channel Bank Support
Analog and Digital T1 Ready

PSTN or Digital Failover
NIS Routing
Advanced Routing (IVR)
Fast Pass
Caller Position Notification
Call Whisper
Auto call forwarding
Unified Messaging
Call Screening
ANI Routing
DNIS Routing
Enhanced Mobility
Custom VoIP Provider
Professional Development
Fax Support
Fax to Email
Fax PDF Support
ACD Features
Click to Dial
Softphone
Call Transfer
Call Conference
Live Monitoring, etc.
Related Pages
---
---