---
SIP Account
This article is a brief introduction about the Session Initiation Protocol related account for VoIP communication in relation with Ozeki VoIP SIP SDK. After reading through this page you will be fully familiar with all the essential terms concerning SIP accounts and what you will need for creating your own solution using Ozeki VoIP SIP SDK.
The Session Initiation Protocol (SIP) is an IETF-defined signaling protocol widely used for controlling communication sessions such as voice and video calls over Internet Protocol (IP). SIP helps in establishing communication sessions which involve various media types such as audio, video, or collaborative multimedia.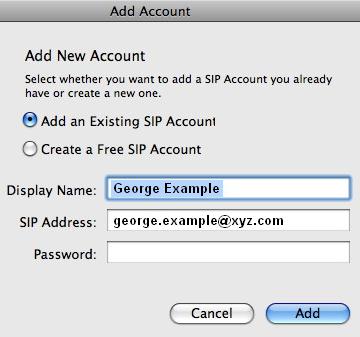 A SIP user agent (UA) is a logical network end-point used to create or receive SIP messages and thereby manage a SIP session. To every UA belongs a SIP account. You can think of the SIP account as the key that activates your VoIP communications hardware and software solutions. Once you enter in your SIP account credentials into a SIP UA, you will be able to make and receive calls on that user agent with your preferred caller ID.
SIP accounts are not the same as SIP addresses. While a computer has a unique SIP address which can identify only that particular computer, your SIP account is more 'flexible'. You can register your SIP account on multiple devices simultaneously. Many of our customers register the SIP account they use on their office desk phone to a mobile SIP client on their cell phone so they are never out of reach. See an example for a SIP account below (Figure 1).
This article introduced you the basic knowledge about the SIP accounts and showed how Ozeki VoIP SIP SDK can help you to fulfill your goals. If you have read through this page carefully, you already have all the knowledge you need to start on your own solution.
As you are now familiar with all the terms concerning this topic, now it is time to take a step further and explore what other extraordinary solution Ozeki VoIP SIP SDK can provide to you.
If you have any questions or need assistance, please contact us at info@voip-sip-sdk.com
You can select a suitable Ozeki VoIP SIP SDK license for your project on Pricing and licensing information page
Related Pages
---
---