---
Call Center Client
This article is a brief introduction about call center client technologies in relation with Ozeki VoIP SIP SDK. After reading through this page you will be fully familiar with all the essential terms concerning call center clients and what you will need for creating your own solution using Ozeki VoIP SIP SDK.
A call center can be very useful for larger companies, as it can speed up the pace of call handling. Important customer calls will no longer roam between different departments before finding the right person. A call center works like a receptionist who transfers the calls to the proper department inside an institution.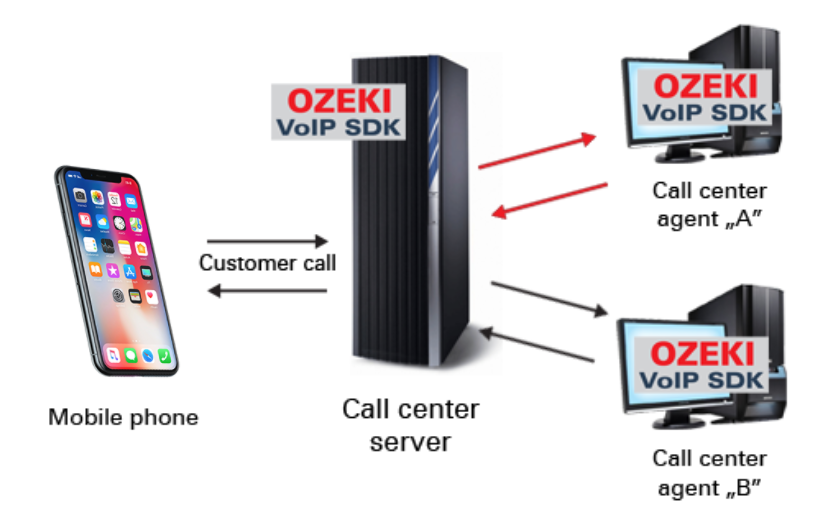 If you have a call center, all of your incoming calls go through a so called call center server. This server will forward the calls to the competent people's department at your company. They will answer the calls by using a call center client. A call center client (Figure 1) is the end-point of a redirected VoIP call. In some cases it can be an automat, but most of the time these clients are handled by human operators.
This article introduced you the basic knowledge about call center clients and showed how Ozeki VoIP SIP SDK can help you to fulfill your wishes about this topic. If you have read through this page carefully, you already have all the knowledge you need to start on your own solution.
As you are now familiar with all the terms concerning this topic, now it is time to take a step further and explore what other extraordinary solution Ozeki VoIP SIP SDK can provide to you.
If you have any questions or need assistance, please contact us at info@voip-sip-sdk.com
You can select a suitable Ozeki VoIP SIP SDK license for your project on Pricing and licensing information page
Related Pages
---
---